Leicestershire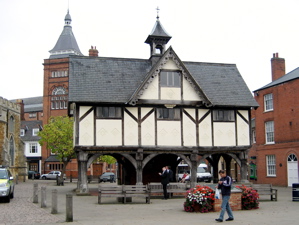 Leicestershire is a very picturesque county in the East Midlands.
Small in area, Leicestershire is full of delightful villages, attractive market towns and rolling countryside which was for many years the quintessential English foxhunting country.
Right in the middle of the county is the ancient but thriving city of Leicester. One of the oldest towns in the country, Leicester today is one of the most populous cities in England, with plenty of industry but still much visible evidence of its historic past.
Leicester has two Universities – Leicester and De Montfort – and there is another at Loughborough.
Loughborough, as well as having a University, is also an old-established market town. It has one of only two bell foundries in England, and a carillon tower in the lovely Queens Park. Ladybird Books were published for many years in Loughborough.
Melton Mowbray, another busy market town, is world-famous for its hand-raised pork pies and for Stilton cheese. St Marys Church is of near-cathedral size. The town was the destination for all the proverbial crowned heads of Europe in the heyday of foxhunting.
Market Harborough has a modern indoor Market Hall. The parish church of St. Dionysus is unusual in having never had a churchyard. There are a number of old coaching inns still functioning as hotels or pubs, and there is a highly photogenic timber-framed Old Grammar School in the High Street.
Lutterworth, another old market town, is famous for its 14th century Rector, John Wycliffe, the first man to translate the bible into English, and appropriately the town has the headquarters of the Gideons, who supply Bibles to hotel rooms.
Hinckley has a large market. A pond in the town centre park was created from the moat of the Norman castle. Hinckley is one of the few towns to be mentioned in Shakespeare.
Market Bosworth is a delightful little market town. It gave its name to the Battle of Bosworth, one of the most influential in English history, when Richard III lost his life and the Tudor dynasty came to power.
Ashby-de-la-Zouch has an indoor Market Hall. The extensive ruins of the castle are managed by English Heritage. It was here that Sir Walter Scott set part of his novel "Ivanhoe". St. Helens Church has a rare finger pillory.
Some of the other towns worth exploring include Blaby, with a deserted village site in a park; Castle Donington, home of an airport and racetrack; Narborough, on the old Fosse Way; Oadby, with beautiful Botanical Gardens; Shepshed, in the heart of Charnwood Forest; Whitwick, with its spring issuing from under the church; and Wigston Magna, which unusually has two mediaeval churches.
Charnwood Forest, between Leicester and Loughborough, has some of the oldest volcanic rocks in the world, and is essentially a miniature mountain range. The new National Forest is being established, including Charnwood Forest, and is growing all the time. Much of the forest is in Leicestershire, but it also includes parts of Derbyshire and Staffordshire.
There is some lovely countryside around Leicestershire, and many very pretty villages, including Barrow-upon-Soar, where giant creatures roamed before the advent of man; Billesdon, whose hill is legendary in hunting annals; Hallaton, scene of the annual Bottle Kicking and Hare Pie Scramble; Mountsorrel, long famous for its Butter Cross and its granite; Quorn, which gave its name to the famous Hunt; Rothley, with its surviving Knights Templar chapel; and Woodhouse Eaves, whose church is dramatically sited above a cave.
Many people roar through Leicestershire on the M1. It is well worth leaving the motorway and exploring this lovely but still little known county.
Events in Leicestershire
Autumn Colours Tour, Charnwood Forest Tour, City of Leicester Tour, Da Vinci Code Tour, Famous Mystery Tour, Free Mystery Tour, Hidden Leicestershire Tour, High Leicestershire Tour, Lincolnshire Borders Tour, Mysterious Leicestershire Tour, National Forest Tour, North Leicestershire Tour, Richard III Tour, Roman Roads Tour, Secret Leicestershire Tour, Soar Valley Tour, Vale of Belvoir Tour, Welland Valley Tour