St. Helens Church (Ashby-de-la-Zouch)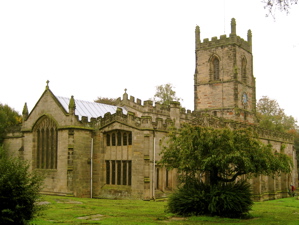 St. Helens is the parish church of Ashby-de-la-Zouch, an attractive market town in Leicestershire.
The church can be found where Lower Church Street meets South Street, in a pretty setting with the ruins of the castle in the background.
St. Helens dates back to the 15th century, at the time when Lord Hastings was building Ashby-de-la-Zouch Castle. He was beheaded on the orders of Richard III in 1483.
At the back of the church is a rare finger pillory, which was used to punish those who had misbehaved in church.
There are a number of impressive monuments to members of the Hastings family, including Selina, the Countess of Huntingdon, who with the aid of the famous preacher George Whitefield introduced a form of Methodism into aristocratic circles. Her chapels were known collectively as the Countess of Huntingdons Connexion.
Colin Crosby's Guided Walks in Ashby-de-la-Zouch start from the main entrance to St. Helen's.
St. Helens Church (Ashby-de-la-Zouch) is the starting point for...