Barrow-upon-Soar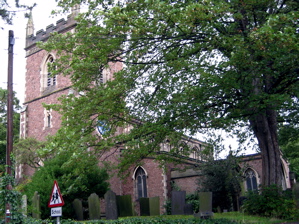 Barrow-upon-Soar is an interesting waterside village on the edge of the Leicestershire Wolds, a few miles to the South of Loughborough.
It stands on the River Soar, which acts a boundary between two completely different kinds of terrain. To the West are the crags of Charnwood Forest, which has rocks which are among the oldest in the world, and to the East are the Wolds, which gently roll into Lincolnshire.
Much of the Soar is in fact a navigation (a canalised river), but there is a cut through Barrow, so that canal traffic could avoid the meander through Quorn.
Holy Trinity Church dates back to the 12th century.
Beveridge Street is the oldest street in Barrow, running from the church to the village green. An old house in the street is the birthplace of Bishop Beveridge, who became Bishop of St. Asaph in Wales.
The earliest known inhabitant, however, is an ichthyosaur, the fossil of which was found in Barrow lime workings. It features on the village sign and the original can be seen in the New Walk Museum in Leicester.
Narrowboats can be hired for pleasure from a boatyard near the Navigation Inn.
Blue Badge Guide Colin Crosby is available to lead Guided Walks around Barrow-upon-Soar for groups.