Richard III Tour (A Coach Trip in Leicestershire)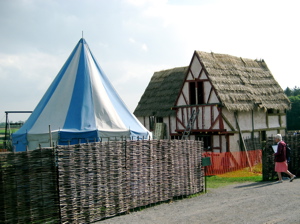 The "Richard III Tour" is a Coach Trip devised and led by the well-known Leicester-based Blue Badge Guide Colin Crosby, of Colin Crosby Heritage Tours.
These excursions are a most enjoyable way of soaking up some Local History.
It is one of the morning trips, very popular with people who are happy to go out for half a day.
The coach leaves St. Margarets Bus Station in Leicester at 9.30am, returning about 2pm.
The format for these morning trips is that one stays on the coach almost all the time, while Colin gives a commentary. About halfway round, usually about 11.30am, there is a stop, where one can buy coffee, tea, cakes etc. This is always somewhere nice, such as a farm, museum garden centre, craft centre etc.
Richard III was a tragic and much-maligned king whose character and appearance were very different from his characterisation by William Shakespeare and Thomas More.
His story heavily involves Leicester and Leicestershire. He was born not far outside the county, at Fotheringhay in Northamptonshire. He spent his last night in a bed in Leicester, before being killed at the Battle of Bosworth, outside the pleasant little town of Market Bosworth. His body was brought back to Leicester, where he was buried.
The coach will follow a route close to the one Richard took from Leicester to the battlefield, and will show the countryside around the battle area as it is today.
Dates, costs and where to meet
A place on 'Richard III Tour' costs £13.00 per person, or £13.00 if paying in advance. The coach trip begins at St. Margarets Bus Station, and is running on:
I'm sorry, but there are no plans to run this event at present.
If you would like to book a place on one of these dates, please telephone Colin on (0116) 2611576 or email him at colin@crosbyheritage.co.uk.