Rothley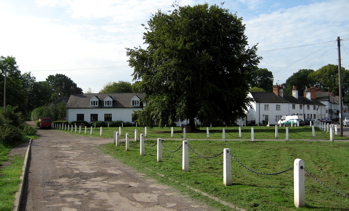 Rothley is a picturesque village on the edge of Charnwood Forest, a few miles to the North of Leicester, between Birstall and Mountsorrel.
Rothley has associations with the Knights Templar, the religious order of knights who were formed to protect pilgrims travelling to the Holy Land. They had a large estate here, including a preceptory, the Templar version of an abbey. The Knights Templar flourished until the Kings of England and France accused them of blasphemy and dissolved the order, thus acquiring their considerable wealth.
The Templar chapel survives in the grounds of the Rothley Court Hotel.
Rothley has an important literary connection, being the birthplace of the eminent Victorian writer and historian Thomas Babington Macaulay, at the building which is now the hotel. When he was ennobled, Macaulay took the title Baron Macaulay of Rothley.
On the lawn outside the hotel is the plaque recording the drafting here of the bill to outlaw slavery in the British Empire.
The parish church of St. Mary the Virgin and St. John the Baptist dates back to the 13th century. In the churchyard, however, is a much earlier structure, a tall and impressive Anglo-Saxon cross, which would have been used for open-air preaching.
The original village green stands some way from the present village centre, and has a fine collection of timber-framed cottages.
Rothley has a station on the restored Great Central Railway, the only steam line in England that was originally a main line.
Blue Badge Guide Colin Crosby is available to lead Guided Walks around Rothley for groups.