Melton Mowbray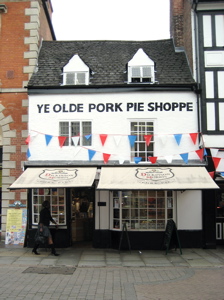 Melton Mowbray is a very attractive town in the East of Leicestershire, close to the Vale of Belvoir.
The magnificent St Marys Church could easily be mistaken for a cathedral. The young Malcolm Sargent, later to become a world-renowned conductor, was choirmaster and organist at the church. He was a relatively local man, having been brought up in Stamford.
Melton was one of the most important centres for foxhunting. Whatever one's views on the morality of hunting, it cannot be denied that this brought a great deal of prosperity to the town, encouraging visits from international nobility and all the proverbial crowned heads of Europe.
It was at Burrough-on-the-Hill, just outside Melton, that David, the then Prince of Wales, met Mrs Wallis Simpson. They were both staying in Melton for the hunting. He was briefly King Edward VIII before abdicating in order to marry Mrs Simpson. After Edward VIII's brother Bertie became unexpectedly the much-loved King George VI, they were known as the Duke and Duchess of Windsor.
Melton Mowbray is particularly known for food. Several butchers sell the renowned Melton Mowbray hand-raised pork pies, and at Dickinson and Morris in the town centre organised groups can watch these being made.
Another product centred on the Melton Mowbray area is Stilton cheese, which is made at just a few locations in Leicestershire and nearby Nottinghamshire. Also made locally is Red Leicester cheese.
Melton Mowbray has a flourishing weekly market, and also has, on the edge of the town centre, a famous and busy Cattle Market.
The well-known painter of hunting scenes, John Ferneley, lived in Melton, and Graham Chapman of the Monty Python team went to school in the town.
Blue Badge Guide Colin Crosby is available to lead Guided Walks around Melton Mowbray for groups.