Hinckley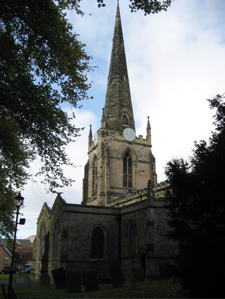 Hinckley is a large market town in the West of Leicestershire, with a good deal of industrial history.
It was for many years at the heart of the hosiery industry. The first stocking frame in Leicestershire was set up here, by William Iliffe, in around 1640. His cousin, John Cleveland, was the well-known Restoration poet John Cleveland, who was born in Loughborough but came here to live.
Hinckley has the distinction of being one of the few towns to be mentioned in Shakespeare. He refers to Hinckley Fair in "Henry IV Part II".
A Norman castle was built at Hinckley shortly after the Conquest. This was part of a string of castles, which included Leicester and Tamworth, to be set up across the Midlands in a conscious, and clearly successful, attempt to overawe the English. Nothing is left of the castle buildings, but part of the moat has been converted into a small lake in a town centre park.
The architect Joseph Aloysius Hansom was living at Hinckley when he invented the Hansom cab, seen in so many films about foggy old London town in the days of Sherlock Holmes and Jack the Ripper.
The Ashby Canal skirts Hinckley, as does the main A5 road. This is in fact the Roman road known as Watling Street. It was formerly the frontier between English England to the South and West, and Danish England to the North and East, and is still the county boundary between Leicestershire and Warwickshire.
The Hinckley Museum is run by volunteers in a pretty timber framed building. Nearby is the Great Meeting, a Unitarian chapel built in 1722.
The impressive St. Mary's Church dates from the 14th century. The churchyard is the setting for the macabre legend of Richard Smith, whose gravestone is said to bleed on the anniversary of his murder by a recruiting officer.
Blue Badge Guide Colin Crosby is available to lead Guided Walks around Hinckley for groups.