Market Harborough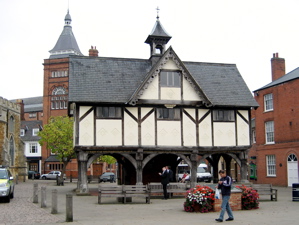 Market Harborough is a delightful old market town in the South of Leicestershire, close to the border with Northamptonshire.
However, although it has retained many of its picturesque old buildings, it is much younger than most towns and villages, having been deliberately created in the Middle Ages as a market town, lying roughly midway between the two market centres of Leicester and Northampton.
St. Dionysius Church, centrally placed in the High Street, is a rarity in that it has no churchyard. This is because until the 19th century it was a chapel of ease, rather than the actual parish church, being subordinate to the now-ruined St. Mary in Arden.
The attractive timber-framed building on stilts, which stands beside the church, is the Old Grammar School, founded by Robert Smyth of Harborough, who went to London to seek his fortune and was so successful that he was able to pay for a school for his hometown. The building was later used as a town hall, and is still sometimes used for meetings.
The Robert Smyth School is still an important local institution, but in a different location a few minutes walk away. One famous old boy is the former England rugby captain Martin Johnson.
In the 19th century the Symington family moved to Harborough from Scotland, and set up two thriving businesses.
One was the company that made custard power, soup powder and blancmange.
Another branch of the family took advantage of the fashion for women to have very narrow waists, and successfully manufactured corsets, including the infamous Liberty Bodice.
The corset factory now contains the council offices, public library and museum.
Charles I and Prince Rupert held their council of war in Harborough before their disastrous defeat at nearby Naseby, and Thomas Cook was living in the town when he organised his first ever excursion, from Leicester to Loughborough.
Blue Badge Guide Colin Crosby is available to lead Guided Walks around Market Harborough for groups.