Shepshed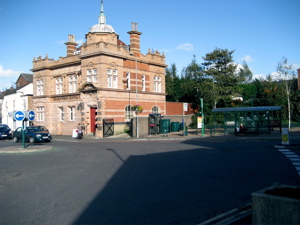 Shepshed is a small market town in North West Leicestershire, on the edge of Charnwood Forest.
Having been largely dependant through the Middle Ages on sheep farming, Shepshed became in the 19th century a centre for the footwear and hosiery manufacturing industries.
St. Botolph's Church dates back to the 13th century, and stands on the highest point (the original "sheep's head") of the town, accompanied by some very old cottages.
There are two separate centres, the old Market Place and the Bull Ring, named after the practice of bull baiting which was a popular sport here.
On the road to Hathern there is an old watermill, and on the road to Whitwick an old windmill. Both of these have been converted to private houses.
The area between Shepshed and Loughborough is the former Garendon Park. Garendon Abbey was founded by the Cistercians in the 12th century, and lasted until Henry VIII's Dissolution of the Monasteries. A later Palladian mansion was demolished in 1964, but several follies remain in the grounds.
Blue Badge Guide Colin Crosby is available to lead Guided Walks around Shepshed for groups.