Mountsorrel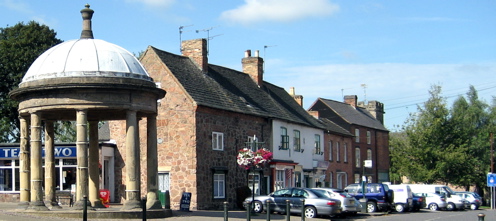 Mountsorrel is an interesting village on the edge of Charnwood Forest, a few miles to the North of Leicester and a few miles to the South of Loughborough, between Rothley and Quorn.
The village is best known for its granite, which has been quarried for many years and was even used by the Romans. The rock has a pinkish-purplish colour, and is used for paving and in the construction of many buildings in the area.
Mountsorrel stands on an ancient road, which, until a Mountsorrel and Quorn bypass was constructed a few years ago, was for centuries the major route from London to the East Midlands and beyond. The road runs along the strip of land between the crags of Charnwood Forest and the River Soar.
There was formerly a Norman castle here, but this was demolished on the orders of the King in the Middle Ages after its owners persisted in robbing those travelling along the road.
The very fine Butter Cross was erected in the 19th century, and stands in the former Market Place.
Mountsorrel has a lovely village green, on which stands one of the two parish churches.
Stonehurst Farm, still a working farm, is one of the houses where John Wesley preached. It is now a popular tourist attraction and has excellent tea rooms.
Blue Badge Guide Colin Crosby is available to lead Guided Walks around Mountsorrel for groups.