About Colin Crosby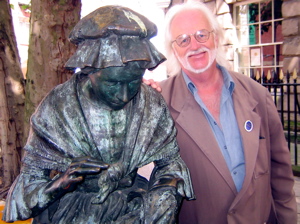 Colin Crosby is a well-known Blue Badge Guide, based in Leicester.
He qualified to hold the coveted Blue Badge in 1994, having successfully completed an intensive course and passed a series of examinations, both written and practical.
Colin is now very much in demand for his Guided Walks, Coach Trips and talks. Most of the walks and talks take place in Leicestershire and Rutland, but some are in Essex and London, while the coach excursions are to destinations all over the country.
Colin Crosby, the early years
Colin was born at Rochford, Essex in 1942, and lived in the Southend area until the 1970s.
He attended the local grammar school, Southend-on-Sea High School for Boys, where his contemporaries included the late Vivian Stanshall (leader of the Bonzo Dog Doo Dah Band), Robin Trower (internationally renowned rock guitarist) and Danny Linehan (former captain of the Canadian Olympic hockey team).
Colin spent many successful years managing cinemas and theatres, mostly in the South of England. He entered the cinema industry as a trainee manager ten days short of his 21st birthday, and in 1966 was appointed Manager of the Odeon Whalebone Lane in Dagenham, at that point being the youngest cinema manager in the country.
He was one of the early twin cinema managers (at Westcliff) and one of the first to manage two cinemas simultaneously (at Ramsgate). He is a Fellow of the Institute of Entertainment Managers.
He won many awards as a cinema manager, particular for showmanship and publicity. He was the first manager to write his own weekly newspaper column (at Westcliff) and the first to have publicity material regularly available in another country (at Calais, referring to Ramsgate).
During the sixties, Colin became acknowledged as an expert in security at concerts, ensuring that members of the audience were kept off the stage during performances. Among the performers with whom he worked at this time were the Animals, the Beatles, Chuck Berry, John Gilpin, Cliff Richard and the Rolling Stones.
Colin has also been involved in carnivals, (taking part in a record number of processions and acting as Public Relations Officer for Hayling Island Carnival, as well as compering the annual Carnival Queen Contest); conservation (Public Relations Officer for the Rochford Hundred Amenities Society); music (patron of Broadstairs Folk Week); and tourism (Public Relations Officer for the Isle of Thanet Promotion Board).
He has chaired meetings (including public meetings on controversial subjects), compered shows, opened fetes, been interviewed on radio and television, and presented his own weekly Hospital Radio programme.
Colin's Modern Life
He is married to Anne, and has three sons (Neil, Kevin and Robin) and a daughter (Gillian), as well as two daughters (Theresa and Angela) from an earlier marriage, and three granddaughters (Kirsty, Alice and Sarah-Beth) and a grandson (Jack).
Colin has moved house a number of times, mainly due to changing jobs. Among the places where he has lived or worked are Barking, Canterbury, Dagenham, Gravesend, Halstead, Havant, Ilford, Leicester, London (City and West End), Loughborough, Portsmouth, Purbrook, Ramsgate, Rugby, Rochford, Southend and Westcliff.
His wide-ranging experience, coupled with his lifelong love of history, stand him in good stead as a very well-known Blue Badge Guide.