Lutterworth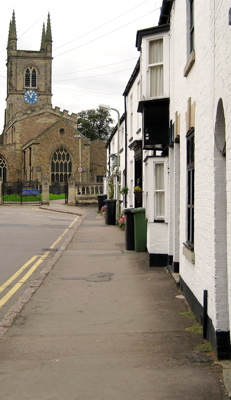 Lutterworth is an interesting market town in South Leicestershire.
The town's greatest glory is the 13th century St. Mary's Church, whose Rector in the late 14th century was John Wycliffe.
Wycliffe was something of a rebel, and would certainly have been in serious trouble with the church authorities had he not been under the protection of the powerful John of Gaunt, one of whose homes was Leicester Castle.
He was the first man to translate the Bible into English. Until then, listening to Bible readings would have been, for the common man, a dreadfully boring experience, as the language used would have been Latin. Wycliffe believed that people should understand what the Bible was actually saying.
He also fought against the practice of allegedly giving God's forgiveness for sins in return for money. Wycliffe's followers became known as the Lollards, and his teachings were later a great influence on Martin Luther.
St. Mary's Church contains two mediaeval wall paintings, one of which is a rare doom painting showing the Day of Judgement.
The Market Place is still used for weekly markets, and the Town Hall, standing beside the market in the High Street, was designed by Joseph Aloysius Hansom, the inventor of the hansom cab, who lived at Hinckley.
There are a number of coaching inns in the High Street. Lutterworth was an important staging post in the stagecoach days.
The town contains the British headquarters of the Gideons, who famously leave copies of the New Testament in hotel rooms and hospitals.
Blue Badge Guide Colin Crosby is available to lead Guided Walks around Lutterworth for groups.