Da Vinci Code Tour (A Coach Trip in Leicestershire)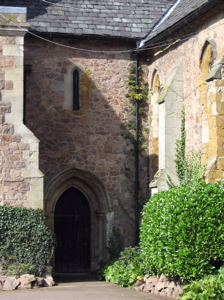 The "Da Vinci Code Tour" is one of the Coach Trips devised and led by Blue Badge Guide Colin Crosby, of Colin Crosby Heritage Tours, who organises these throughout the year.
These excursions are an enjoyable way of learning some Local History.
It is one of the morning trips, around the Leicestershire area. This format is especially popular with people who do not wish to be out for the whole day.
This tour concentrates on the huge rise in interest in matters associated with the history of Christianity and shadowy organisations, including the Knights Templar, said to have helped or hindered the Church over the centuries.
This explosion of interest started with the famous book "The Holy Blood and the Holy Grail", and grew with the publication of Dan Brown's controversial "The Da Vinci Code" and the subsequent film.
The coach leaves St. Margarets Bus Station in Leicester at 9.30am, and is expected back about 2pm.
On the morning trips, one stays on the coach almost all the time, while Colin gives a commentary. About halfway round, however, usually in the region of 11.30am, a stop is made somewhere pleasant, where one can buy tea, coffee, cakes etc.
The tour is around the Leicestershire area, looking at places which are relevant to the theme.
Scenes in the film were shot at Belvoir Castle, while Melton Mowbray and Gaddesby have connections, and there is a surviving Knights Templar chapel at Rothley.
And of course the Leicestershire countryside, through which the tour runs, is particularly beautiful.
Dates, costs and where to meet
A place on 'Da Vinci Code Tour' costs £9.00 per person, or £9.00 if paying in advance. The coach trip begins at St. Margarets Bus Station, and is running on:
I'm sorry, but there are no plans to run this event at present.
If you would like to book a place on one of these dates, please telephone Colin on (0116) 2611576 or email him at colin@crosbyheritage.co.uk.