Richard III (A Guided Walk in Leicester)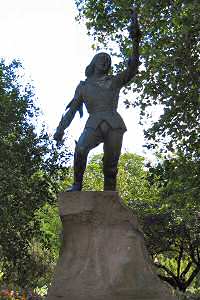 The "Richard III" Guided Walk, as the title implies, is about the King of England who reigned from 1483 to 1485.
He spent his last night in a bed in Leicester, was killed at the Battle of Bosworth and buried in Leicester.
This walk, devised and led by Blue Badge Guide Colin Crosby, of Colin Crosby Heritage Tours, is a rarity in that it tells the story (of the rise and fall of this tragic and much-maligned king) chronologically, while visiting the many sites in Leicester's Old Town with which he is associated.
These strolls are a very enjoyable way of soaking up some Local History.
Most people have received their impression of Richard (generally regarded as being just about the worst monster who ever lived) through the writings in the Tudor period of William Shakespeare and Thomas More. The truth is rather different.
Richard III was a handsome, cultured, intelligent, courageous and popular king, who was only 32 when he died. He was responsible for several reforms designed to make life better for ordinary people.
We know that he was a fine horseman, a very good dancer and an expert horseman. It would not be possible for him to have had any of these skills if he had actually been deformed in the ways normally depicted.
The authors who created this picture of Richard were writing to please the Tudor dynasty, whose only real claim to the throne was that of conquest.
Richard spent his last night in a bed at the White Boar Inn in Leicester. He was killed a few miles away at the Battle of Bosworth, near the little town of Market Bosworth,and his body was brought back to Leicester, where he lay in state for three days at the Newarke Church before being buried at the Greyfriars.
It is often asked why his body was buried in Leicester, rather than at one of the parish churches near the battle site. The answer lies in his popularity. There would almost certainly have been a movement claiming that he was not really dead, but getting back his strength so that he could regain his crown by force.
Henry Tudor was no fool, and he knew that the way to forestall this was by showing Richard's body in the town where he had been seen alive by all the townspeople just days before.
All the Leicester sites and others, including the Bow Bridge, scene of folk legends involving Richard, are visited during the walk.
Colin also runs a Coach Trip, looking at the area betwwen Leicester and Market Bsoworth, which Richard would have seen in the last couple of days of his life. This is called "Richard III Tour".
Dates, costs and where to meet
A place on 'Richard III' costs £5.00 per person, or £4.00 if paying in advance. The guided walk begins at Town Hall, and is running on:
I'm sorry, but there are no plans to run this event at present.
If you would like to book a place on one of these dates, please telephone Colin on (0116) 2611576 or email him at colin@crosbyheritage.co.uk.