Town Hall (Leicester)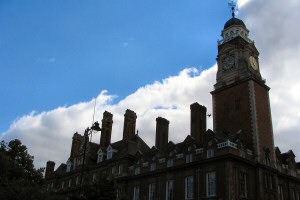 Leicester Town Hall is in the City Centre in Town Hall Square, running between Horsefair Street and Bishop Street.
It was built in the Queen Anne style by Francis Hames, a local architect, in 1875, on the site of the former Cattle Market. The Council had organised a competition to build a new Town Hall, and entries were invited from any architect who cared to take part. Hames was the ultimate winner. It was the first civic building in England to be built in the Queen Anne style.
Most Town Halls built around this period tend to be either Classical or Gothic - either way, they tend to be rather severe. This does not apply to Leicester Town Hall, which has a friendly and inviting feel about it.
The Town Hall still contains the Council Chamber and various other meeting rooms, although most of the council offices are located elsewhere in the city. The city's Register Office, where marriages take place, has recently been relocated to the Town Hall.
The Town Hall has an extra tower which contains a clock, and there are extra wings, to Bishop Street and Bowling Green Street, which were added in 1910 and 1924 respectively.
Before 1875, Leicester's Guildhall had acted as the Town Hall for 400 years. This attractive timber-framed hall, one of the oldest civic buildings in England, was constructed for the Guild of Corpus Christi in the late 14th century, and extended a century later, at about the time of Richard III.
The Town Hall's friendliness is enhanced by the open space in front, known as Town Hall Square. This contains the Town Hall Square Fountain, also built by Francis Hames, in 1879.