Goosepimples (A Guided Walk in Leicester)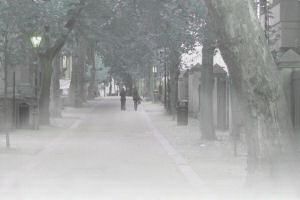 "Goosepimples" is a Guided Walk devised and led by Blue Badge Guide Colin Crosby, of Colin Crosby Heritage Tours.
These walks are an enjoyable way to soak up some Local History.
It is aimed particularly at the children who would like to attend one of these walks, but whose parents feel that the times are too late. It should also be suitable for anybody else who would rather not be out at night, but would still like to hear some of the stories.
The walk starts outside the Town Hall, in Town Hall Square in Leicester City Centre.
"Goosepimples" is a distillation of some of the scariest stories to come out of Colin's ghostly walks in Leicester and other places, including the old City of London.
The route takes in Leicester's half-forgotten Old Town, where many ghost are said to lurk.
Most towns have their own ghostly phenomena, but Leicester seems to have more than its fair share. This probably has something to do with it being one of the oldest towns in the country, giving the ghostly population two thousand years to get established.
Colin will recount the spine-tingling story of Black Annis, and some of the hauntings around the Castle and Newarke areas.
He will also relate some of his own experiences of a ghostly nature.
Colin also leads a number of other Haunted walks, including "Haunted Leicester", "The Haunted City", "Walk in Dread", "The Shades of Night", "Haunted Belgrave" and "Tales for Halloween", and in London "Haunted London" and "The Haunted Capital".
Dates, costs and where to meet
A place on 'Goosepimples' costs £5.00 per person, or £4.00 if paying in advance. The guided walk begins at Town Hall, and is running on:
I'm sorry, but there are no plans to run this event at present.
If you would like to book a place on one of these dates, please telephone Colin on (0116) 2611576 or email him at colin@crosbyheritage.co.uk.