Set in Stone (A Guided Walk in Leicester)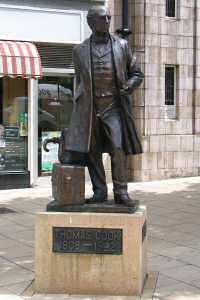 "Set in Stone" is one of the wide range of Guided Walks in Leicester devised and led by the well known Blue Badge Guide Colin Crosby, of Colin Crosby Heritage Tours.
The walks are an ideal way of picking up some Local History.
Leicester has a large number of statues, friezes etc, and this highlights the outstanding ones in the City Centre.
Among those commemorated in this way are Thomas Cook; Simon de Montfort; and King Richard III, as well as sportsmen and seamstresses.
Dates, costs and where to meet
A place on 'Set in Stone' costs £5.00 per person, or £4.00 if paying in advance. The guided walk begins at Town Hall, and is running on:
I'm sorry, but there are no plans to run this event at present.
If you would like to book a place on one of these dates, please telephone Colin on (0116) 2611576 or email him at colin@crosbyheritage.co.uk.