Faith in Leicester (A Guided Walk in Leicester)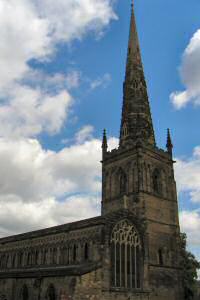 "Faith in Leicester" is a Guided Walk which views and discusses places of worship in Leicester City Centre and Old Town. It is devised and led by Blue Badge Guide Colin Crosby, of Colin Crosby Heritage Tours.
These walks are an enjoyable way of soaking up some Local History.
Leicester is fortunate in retaining five mediaeval churches in the City Centre and Old Town. Most places have one, and only a few have more than two.
This is in addition to the old churches in the villages which are now Leicester suburbs - Belgrave, Humberstone, Evington, Knighton, Aylestone and Braunstone.
St. Martin's Church is now Leicester Cathedral, having been the civic church for centuries. It contains monuments to Richard III, who was buried nearby at the Greyfriars, and to Abigail Herrick, the mother of Jonathan Swift, who wrote "Gulliver's Travels".
St. Mary de Castro Church ("beside the castle") was the scene of Geoffrey Chaucer's marriage to Phillipa Roet, and also of the five-year-old Henry VI's vigil and subsequent knighting.
St. Nicholas Church is probably the oldest in Leicester, and contains Anglo-Saxon window openings. This church was probably the seat of Leicester's early Bishops in the pre-Danish period, including the celebrated St. Wilfrid.
All Saints Church has a splendid Norman doorway, but is unfortunately no longer in regular use.
St. Margarets Church is outside the line of the town wall. This can probably be explained by being the church for the Danish settlers, who lived in an extra-mural suburb, when they were converted to Christianity.
The walk also views the Great Meeting; the magnificently-carved Jain Centre, converted from a Congregational chapel; Bishop Street Methodist Church; and the Guru Nanak Gurudwara, which also contains a Museum of the Sikh religion.
In addition to all these, the sites of the Newarke Church (where Richard III's body lay in state) and the Greyfriars (where he was buried) are pointed out.
Colin also leads a Guided Walk called "Churches of London".
Dates, costs and where to meet
A place on 'Faith in Leicester' costs £6.00 per person, or £5.00 if paying in advance. The guided walk begins at Town Hall, and is running on:
I'm sorry, but there are no plans to run this event at present.
If you would like to book a place on one of these dates, please telephone Colin on (0116) 2611576 or email him at colin@crosbyheritage.co.uk.