A Handful of Architects (A Guided Walk in Leicester)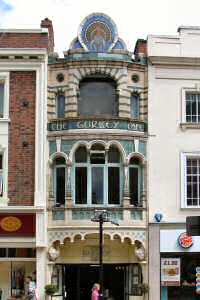 "A Handful of Architects" is a Guided Walk in Leicester devised and led by Blue Badge Guide Colin Crosby, of Colin Crosby Heritage Tours.
These walks are an enjoyable way of learning some Local History.
The walk concentrates on the work of four prominent local architects who left their mark on the City Centre. Most Leicester people will know many of the buildings involved without necessarily being aware of the architects responsible.
The starting point is the Town Hall, built on the site of the old Cattle Market in 1875.
The four architects concerned are Edward Burgess; William Flint; Joseph Goddard; and Arthur Wakerley.
And among the buildings to be discussed are the Midland Bank (HSBC); the Turkey Cafe; the Thomas Cook Building; the Clock Tower; Eastgates Coffee House; the Singer Building; and the Corn Exchange.
The walk thus shows many of Leicester's best loved landmarks.
Dates, costs and where to meet
A place on 'A Handful of Architects' costs £6.00 per person, or £5.00 if paying in advance. The guided walk begins at Town Hall, and is running on:
I'm sorry, but there are no plans to run this event at present.
If you would like to book a place on one of these dates, please telephone Colin on (0116) 2611576 or email him at colin@crosbyheritage.co.uk.