Haunted Leicester (A Guided Walk in Leicester)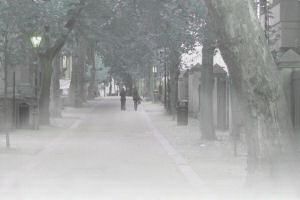 "Haunted Leicester" is one of the most popular of the many Guided Walks devised and led by Blue Badge Guide Colin Crosby, of Colin Crosby Heritage Tours.
These strolls are an enjoyable way to soak up some Local History.
The walk starts outside Leicester's Town Hall, in Town Hall Square.
The route goes through the lonely and eerie streets of Leicester's half-forgotten Old Town, where many ghosts are said to lurk.
All towns have their phantoms, but Leicester seems to have more than its share. This is probably because Leicester is one of England's oldest towns, and the ghostly population has had two thousand years to get itself established.
Many of the ghosts of Leicester appear to be monks. However, they are more likely to be friars, who, unlike monks ho stayed in their monasteries, went out into the community. Leicester had three friaries, the Grey Friars (Franciscan), the Black Friars (Dominican) and the White Friars (Augustinian).
It was at the Grey Friars, near Leicester Cathedral, that Richard III was buried after his defeat and death at the Battle of Bosworth a few miles away at Market Bosworth in 1485. His ghost has been seen in the nearby streets.
The Leicester Castle area, and the adjoining Newarke, have a large collection of ghosts, as has the historic St. Mary de Castro Church.
The 14th century Turret Gateway is the scene of many sightings of the ghost of the terrifying Black Annis, and also of hauntings by Mary de Bohun, the first wife of Henry IV, and mother of Henry V. She was buried in the Trinity Hospital chapel.
Colin will tell the story of the little dog who came on this walk one night, and confirmed the existence of the ghosts that he was describing.
He also leads other Haunted walks, including "The Haunted City", "Walk in Dread", "The Shades of Night", "Goosepimples", "Haunted Belgrave" and "Tales for Halloween", as well as two in London, "Haunted London" and "The Haunted Capital".
Colin usually asks at the start if anybody has seen a ghost. Most say they have not, and he then has the pleasure of pointing out that ghosts do not necessarily dress in the fashions of previous centuries. Ghosts frequently look and dress just like the rest of us.
Dates, costs and where to meet
A place on 'Haunted Leicester' costs £6.00 per person, or £5.00 if paying in advance. The guided walk begins at Town Hall, and is running on:
I'm sorry, but there are no plans to run this event at present.
If you would like to book a place on one of these dates, please telephone Colin on (0116) 2611576 or email him at colin@crosbyheritage.co.uk.