Town Hall Square Fountain (Leicester)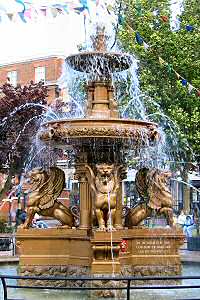 The Town Hall Square Fountain in Leicester is one of the best-loved sights in the City Centre.
It is situated in the middle of Town Hall Square, between Horsefair Street and Bishop Street, outside the Town Hall.
It was designed by Francis Hames, a local architect who had won the competition to design the new Town Hall, which in 1875 replaced the ancient Guildhall.
The money for the fountain was provided by Israel Hart, a prominent local businessman and philanthropist. There is a copy of the statue at Oporto, the second city of Portugal. The city fathers there wanted an attractive civic monument, and when they saw the Leicester fountain being made at a foundry in Paris, decided to have a similar one built there.
Around the fountain are seats and expanses of grass, where many a sandwich or cob is consumed.
Beside Town Hall Square is Leicester's Tourist Information Centre.
Where is Town Hall Square Fountain?
View a map showing the location of Town Hall Square Fountain.
Press the 'Back' button on your web browser to return here.