Guildhall (Leicester)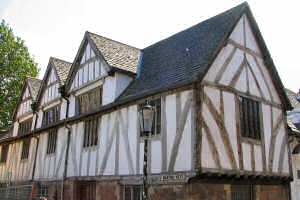 Leicester Guildhall is in Guildhall Lane in Leicester City Centre, beside Leicester Cathedral and opposite one of the entrances to BBC Radio Leicester's new studios.
A very fine timber-framed hall, the Guildhall is one of the oldest civic buildings in the country.
It was built originally for the Guild of Corpus Christi in the late 14th century. The Guild were partly religious and partly mercantile, and had originally met in St. Martin's church, which is now the cathedral. The earliest part is the range beside the street.
About a century later, roughly at the time of Richard III, an extension was built, at right angles to the original. At about the same time, the Guildhall was taken over by the corporation and used as Leicester's Town Hall for four hundred years, until the present Town Hall was constructed in 1875.
There is a central courtyard, on the other side of which is the Constable's House. The Guildhall was, among other things, Leicester's first police station, and it was here that the Chief Constable lived.
In the courtyard is a replica of the clock which, with its striking jacks, used to be situated on the wall of All Saints Church until the jacks were stolen.
The Guildhall is open as a museum, and plays host to a number of small-scale concerts, meetings and exhibitions.
It was at the Guildhall that Colin Crosby, along with other Guides who had qualified at the same time, was presented with the coveted Blue Badge by the Duke of Gloucester.
There is a Visitor Centre, with café and toilets, operated for the joint benefit of the Guildhall and Cathedral.
Where is Guildhall?
View a map showing the location of Guildhall.
Press the 'Back' button on your web browser to return here.