Historic Leicester (A Guided Walk in Leicester)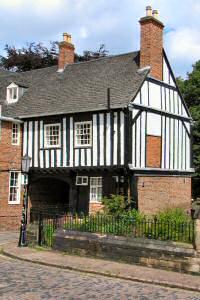 "Historic Leicester" is a Guided Walk devised and led by Blue Badge Guide Colin Crosby, of Colin Crosby Heritage Tours.
These strolls are an enjoyable way to soak up some Local History.
This walk around Old Leicester starts outside the Town Hall, in Town Hall Square.
"Historic Leicester" is an astonishing walk through two thousand years of history in one of England's oldest towns.
There will be discussions of Leicester's place in English history, covering the Roman, Anglo-Saxon, Danish, Norman, Mediaeval, Tudor, Georgian and Victorian periods.
One of the structures viewed is the massive Jewry Wall, the largest surviving piece of Roman masonry of a civil nature in Britain. It was the wall of the Roman baths complex, and had a social function as well as the obvious hygiene one.
Leicester Cathedral (formerly St. Martin's church) is one of five mediaeval churches in the Old Town. The walk includes two of the others, St. Nicholas Church and St. Mary de Castro Church.
Two lovely timber-framed houses are also featured. The Guildhall dates back to the 14th century. It was built for the Guild of Corpus Christi and was used as a Town Hall for 400 years until the present Town Hall was built in 1875. Wygstons House is 15th century, and was formerly used as a Museum of Costume.
The walk also includes Leicester Castle and three gateways - the stone Turret Gateway and Magazine Gateway, and the pretty timber-framed John of Gaunts Cottage.
Among the people who come into the story are John of Gaunt, the great lord who was Regent to Richard II; Geoffrey Chaucer, who wrote "The Canterbury Tales"; Henry VI, who was twice deposed; Richard III, the tragic and much-maligned king; and John Bunyan, who wrote "The Pilgrim's Progress"..
Dates, costs and where to meet
A place on 'Historic Leicester' costs £5.00 per person, or £4.00 if paying in advance. The guided walk begins at Town Hall, and is running on:
I'm sorry, but there are no plans to run this event at present.
If you would like to book a place on one of these dates, please telephone Colin on (0116) 2611576 or email him at colin@crosbyheritage.co.uk.