Keeping Faith in Leicester (A Guided Walk in Leicester)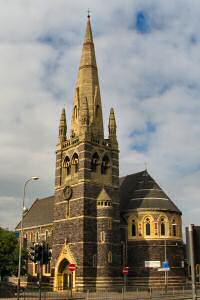 "Keeping Faith in Leicester" is one of the many Guided Walks in Leicester devised and led by the well-known Blue Badge Guide Colin Crosby.
These Walking Tours are an ideal way of soaking up some Local History.
Like another of Colin`s walks, "Faith in Leicester", this one looks at some of the many places of worship, mostly but not entirely Christian, in the historic city of Leicester.
Among the churches pointed out are St. Marks Church in Belgrave Gate, the masterwork of Ewan Christian; St. George`s Church, close to the iconic new performing arts centre named Curve; and St. Stephens United Reform Church, one of the highlights of the lovely New Walk.
Colin also leads similar walks named "Faith in Stamford" and "Churches of London".
Dates, costs and where to meet
A place on 'Keeping Faith in Leicester' costs £5.00 per person, or £4.00 if paying in advance. The guided walk begins at Town Hall, and is running on:
I'm sorry, but there are no plans to run this event at present.
If you would like to book a place on one of these dates, please telephone Colin on (0116) 2611576 or email him at colin@crosbyheritage.co.uk.