Friday the Thirteenth (A Guided Walk in Leicester)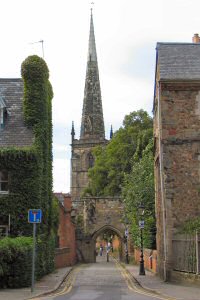 "Friday the Thirteenth" is one of the popular Guided Walks in Leicester devised and led by Colin Crosby, the well known Blue Badge Guide, of Colin Crosby Heritage Tours.
These strolls are an easy and enjoyable way of soaking up some Local History.
This walk starts outside the Town Hall in Leicester City Centre.
Friday the Thirteenth has always been regarded as being a very unlucky day, and Colin discusses the possible reasons for this.
During the walk, Colin talks about a clutch of hauntings, murders, executions and other untimely deaths.
Also coming into the story is the terrifying Black Annis, the subject of a strand of folklore unique to Leicester.
Dates, costs and where to meet
A place on 'Friday the Thirteenth' costs £5.00 per person, or £4.00 if paying in advance. The guided walk begins at Town Hall, and is running on:
I'm sorry, but there are no plans to run this event at present.
If you would like to book a place on one of these dates, please telephone Colin on (0116) 2611576 or email him at colin@crosbyheritage.co.uk.