A Closer Look at Leicester (A Guided Walk in Leicester)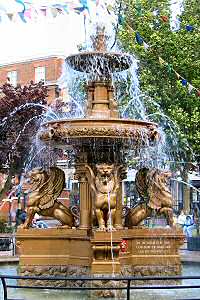 "A Closer Look at Leicester" is an intriguing Guided Walk around Leicester City Centre, devised and led by the well known Blue Badge Guide Colin Crosby, of Colin Crosby Heritage Tours.
These walks are an enjoyable way of learning some Local History.
The walk starts outside the Town Hall.
Leicester is one of the oldest towns in the country, dating back to the Roman period, but it grew enormously as a result of the Industrial Revolution two centuries ago.
"A Closer Look at Leicester" stays within the City Centre, looking rather more closely at things that seem quite mundane as one rushes past, but are actually quite fascinating.
Colin will be highlighting the fact that much of today's City Centre is actually outside the old walled town.
He will take a look at some street names. Were Gallowtree Gate, Church Gate, Belgrave Gate and Humberstone Gate really gateways into Old Leicester? No, but their actual meaning is just as intriguing.
He will look at Leicester's maze, the site of a cockpit visited by James I and will manage to walk down Every Street in Leicester.
Dates, costs and where to meet
A place on 'A Closer Look at Leicester' costs £3.50 per person, or £2.50 if paying in advance. The guided walk begins at Town Hall, and is running on:
I'm sorry, but there are no plans to run this event at present.
If you would like to book a place on one of these dates, please telephone Colin on (0116) 2611576 or email him at colin@crosbyheritage.co.uk.