Talks (A Guided Walk in Leicester)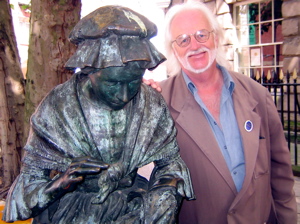 I hope before long to be able to have a section on this Website about the talks I have available for groups.
But in the meanwhile, here are some details about those talks - all of them are available as Guided Walks if you would like to organise them in that way.
I have given the Town Hall in Leicester as the starting point, but of course they can be anywhere, and if in a talk format they can be in your local church hall, village hall etc.
They are mostly, but by no means all, on matters to do with Local History, especially in Leicestershire in Rutland, but also my native county of Essex.
And there are also some special seasonal ones, with particular reference to Christmas, Easter and St. George`s Day.
Here is a list of the available talks.
ADVENTURES OF THE BEARDED CINEMA MANAGER My own adventures when, after being a serial cinemagoer in Southend as a teenager, I entered the entertainment industry as a Trainee Manager at the Odeon Gants Hill just ten days short of my 21st birthday in 1963. It involved long hours, hard work and a great deal of enjoyment.
AN EVENING WITH COLIN CROSBY Or a morning, of course. Or an afternoon. An opportunity to ask me questions. They can relate to my long careers managing cinemas and theatres, and latterly as a Blue Badge Guide. Or they cluld relate to any of my interests - cricket; history; rock`n`roll; Essex; railways etc etc.
CHRISTMAS READINGS - SACRED AND OTHERWISE A selection of readings, some from the Bible, some from famous writers and inevitably some from "anon", in celebration of the much-loved festive season.
DEEDS OF THE KINGS IN LEICESTER An account of the surprising number of visits paid to the ancient town of Leicester by monarchs, including perhaps most famously Richard III, but also including such kings as James I and his son Charles I, as well as the legendary King Lear.
DING DONG MERRILY ON HIGH The stories behind everybody`s favourite Christmas carols, including "God Rest You Merry Gentlemen", "O Come All Ye Faithful", "Silent Night" and "While Shepherds Watched Their Flocks By Night". Some were written by famous poets, some by famous composers, and some wre written under unusual circumstances.
DIONYSIUS, HARDULPH AND EGELWIN - THE CHURCH DEDICATIONS OF LEICESTERSHIRE AND RUTLAND Everybody knows a St. Mary`s Church, or a St. Peter`s, or a St. John`s. But some churches have obscure and unorthodox dedications. Who on Earth were these little - known Saints?
EASTER EGGS, THE EASTER BUNNY AND THE CROSS Easter has become, like Christmas, a time dominated by extravagant spending and chocolate eggs. But Easter is actually the most important festival in the Christian church. What is the background to all this?
ENGLAND`S ISLAND CITY Apart from those who live there, few people realise that the important naval city of Portsmouth is actually built on an island. It has defences from many periods, right back to Roman times, and even has its own seaside resort of Southsea, as well as being the birthplace of Charles Dickens, Isambard Kingdom Brunel, James Callaghan, Peter Sellers - and Sherlock Holmes.
ESSEX`S PLACE IN ENGLISH HISTORY Essex has the longest history of any county in England, even eclipsing the hugely historic Kent. Colchester was the capital of Britain even before the Romans arrived, and is where the legions were heading for. And does its name, Camulodunum, ring any bells? Essex has an astonishingly old church at Bradwell-juxta-Mare, the oldest timber one in the world at Greenstead-juxta-Ongar and the foundations of the earliest known one in the country at Colchester.
ESSEX LEGENDS AND TRADITIONS The folklore of this ancient county is wide-ranging, and involves the likely origins of Camelot, Humpty Dumpty and Old King Cole. Add to these the Whitebait Festival and the Dunmow Flitch, not to mention the famous Witch Country around Rochford, and you have a fabulous collection of the weird.
ESSEX - THE LAND OF MY BIRTH Yes, like Graham Gooch I am very proud to come from Essex. It has the longest history of any county in Britain, the oldst town in Britain, the most islands of any county in England, the largest castle keep ever built anywhere, a host of ancient churches, the longest pier in the world. I could go on forever.
FIENDS OF LONDON England`s capital has always had its share of murder, mystery and horror. Not only did the city spawn Jack the Ripper, but Sweeney Todd, Spring Heeled Jack and the tales of Sherlock Holmes, usually featuring the eerie London fog.
HAUNTED LEICESTER A version of what is probably my most popular Guided Walk. Leicester is one of the oldest towns in the country, so its population of ghosts has had plenty of chance to get well established. Lots of stories of ghosts and the supernatural.
HEROES OF LEGEND Some of the stories involving well-known heroes of legend, and a peep behind the curtain to see what truth there may be in the stories. We will be discussing such people as King Arthur, St. George, Guy of Warwick, Richard the Lionheart and Tom Hickathrift.
HOW TO BE A BLUE BADGE GUIDE Along with over a hundred other people, I applied in 1993 to go on a courrse for Blue Badge Guides. To my absolute delight, I and a few others successfully got through the course and exams, and achieved the coveted badge in 1994. It`s been fabulous.
IN PRAISE OF ENGLAND A selection of readings, of prose and poetry, by both literary giants and more humble writers, on the common theme of the beauty of England.
JACK THE RIPPER The story of the five women who met their awful ends in London`s East End in 1884, at the hands of the fiendish Jack the Ripper, and of some others who may have been his victims. And a discussion of some of the suspets in the frame.
LEICESTER`S PLACE IN ENGLISH HISTORY Over the last two thousand years, there has been a Leicester or Leicestershire connection in all the major periods and events in English history. Think of the Jewry Wall, Simon de Montfort, John Wycliffe, Richard III, Lady Jane Grey, the Siege of Leicester and the birth of tourism.
LEICESTERSHIRE LEGENDS AND TRADITIONS The county, and especially the ancient city of Leicester, have a fascinating collection of folklore. Perhaps the most bizarre is the Bottle Kicking and Hare Pie Scramble at Hallaton, but one should not forget the Damask Rose Ceremony, the Whipping Toms, the Mock Hare Hunt and stories involving King Lear, John of Gaunt, Richard III and the terrifying Black Annis.
LIVING BY THE SEASIDE It is probably difficult for people in the centre of the country to relate to, but some of us actually come from near the sea. I spent my childhood and young adulthood in he Southend area, and to this day I miss its wonderful air. Later on, I lived at Ramsgate and also in the Portsmouh area.
RETURN OF THE BEARDED CINEMA MANAGER A continuation of the reminiscences started in "Adventures of the Bearded Cinema Manager". More long hours, hard work and fun.
RUNNING CINEMAS AROUND PORTSMOUTH As part of my long career managing cinemas and theatres, I ran the Odeon at Cosham during the mid 1970s, and the Empire at Havant in the mid 1980s, becoming heavily involved in the Chamber of Commerce, Carnivals and British Film Year.
So if you would like me to come and give your group one of these talks, just get in touch. You can ring me on 0116 2611576, or email on colin@crosbyheritage.co.uk
Dates, costs and where to meet
A place on 'Talks' costs £5.00 per person, or £5.00 if paying in advance. The guided walk begins at Town Hall, and is running on:
I'm sorry, but there are no plans to run this event at present.
If you would like to book a place on one of these dates, please telephone Colin on (0116) 2611576 or email him at colin@crosbyheritage.co.uk.