Black Annis and Friends (A Guided Walk in Leicester)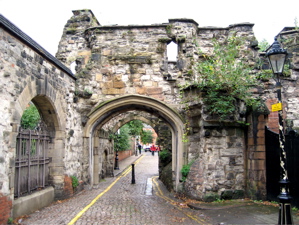 "Black Annis and Friends" is an intriguing Guided Walk in Leicester devised and led by the well-known Blue Badge Guide Colin Crosby, of Colin Crosby Heritage Tours.
These walks are an enjoyable way of learniong some Local History.
The starting point is outside the Town Hall in Leicester City Centre.
Leicester, which is one of the oldest towns in the country, has a rich vein of folklore, and this walk explores some of the local legends and traditions.
It includes stories about King Lear, known to devotees of Willioam Shakespeare, who according to tradition, recorded by Geoffrey of Monmouth, founded Leicester; John of Gaunt, who lived and died at Leicester Castle and is said to have introduced the expression "morris dancing" to England; Richard III, who was killed in battle in 1485 near Market Bosworth and buried at the Grey Friars; and the terrifying Black Annis, whose macabre legend, involving her love of eating children, is unique to Leicester.
The walk also features ancient traditions including the Damask Rose Ceremony, the Hunting of the Mock Hare and the Riding of the George.
The route for "Black Annis and Friends" wends its way through the oldest parts of Leicester, viewing the Turret Gateway, St. Mary de Castro Church, Bow Bridge, the Jewry Walland the Guildhall.
Dates, costs and where to meet
A place on 'Black Annis and Friends' costs £5.00 per person, or £4.00 if paying in advance. The guided walk begins at Town Hall, and is running on:
I'm sorry, but there are no plans to run this event at present.
If you would like to book a place on one of these dates, please telephone Colin on (0116) 2611576 or email him at colin@crosbyheritage.co.uk.