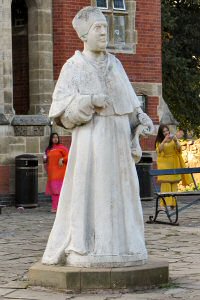 I have been asked by quite a lot of people over the last two or three weeks whether I am continuing to lead Guided Walks after the end of February.
There are only three more walks (Street Names of Leicester, Hinckley and The Shades of Night) listed under "Upcoming Events", and this has, not unnaturally, caused some to wonder whether I am calling a halt.
Yes, there is a continuing full programme of walks, including two in London as well as the Waterside Walks season. I am certainly not calling it a day.
The walks listings have been available since mid-December, and the usual posters and leaflets are now widely available, but it has not been possible so far to transfer this information to the website.
Hopefully, the problem will be sorted out before too long. Sorry for the inconvenience - it's frustrating and embarrassing.
In the meantime, here is the list for March and April.
Sun 4 Mar Mediaeval Leicester Cathedral Fountain 2pm £3.50 (£2.50)
Thur 8 Mar Haunted Belgrave Melton Turn 7pm £3.50 (£2.50)
Thur 15 Mar Market Harborough War Memorial 7pm £4 (£3)
Wed 21 Mar Haunted Leicester Town Hall 7pm £3.50 (£2.50)
Sat 24 Mar Churches of London Fenchurch Street Station 1pm £5.50 (£3.50)
Sat 24 Mar Jack the Ripper Whitechapel Station 5pm £5.50 (£3.50)
Tue 27 Mar A Handful of Architects Town Hall 7pm £3.50 (£2.50)
Sun 1 Apr St. Johns Foxhunter 2pm £4 (£3)
Tue 3 Apr Waterside Leicester Vaughan College 7pm £3.50 (£2.50)
Tue 10 Apr Waterside Belgrave Cardinal Wolsey Statue 7pm £3.50 (£2.50)
Sat 14 Apr Stamford and St. Martins Red Lion Square 2pm £4 (£3)
Sun 15 Apr Historic Leicester Town Hall 2pm £3.50 (£2.50)
Tue 17 Apr Waterside Aylestone St. Andrews Church, Aylestone 7pm £3.50 (£2.50)
Mon 23 Apr St. George and the Dragons Town Hall 7pm £3.50 (£2.50)
Tue 24 Apr Waterside Loughborough Charnwood Water 7pm £4 (£3)
Hope to see you on some of these - book as soon as you like.
Posted by colin on Thursday 8th February, 2007 at 9:28am