Waterside Leicester (A Guided Walk in Leicester)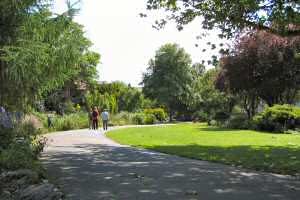 "Waterside Leicester" reveals the little-known beauty and history of Leicester's waterside area, and is devised and led by Blue Badge Guide Colin Crosby, of Colin Crosby Heritage Tours.
These strolls are an enjoyable way of soaking up some Local History.
It is one of a series of Waterside Walks in the city and the county, all of which give a great deal of quiet enjoyment to those who take part.
"Waterside Leicester" starts outside Vaughan College, above the Jewry Wall Museum and opposite the Holiday Inn, and the route leads down to the West Bridge. This was where the famous Roman road, the Fosse Way, crossed the River Soar on its way from Lincoln to Exeter.
The River Soar formerly had three streams flowing through Leicester, but in the 19th century this was reduced to two, as part of a flood prevention scheme.
The walk follows the canal towpath past Mill Lane Bridge, viewing the new premises for the historic Trinity Hospital and the extraordinary Queens Building of De Montfort University, before crossing Bede Park, part of the Bede Island development on the site of scrapyards.
The route then follows the line of the Great Central Railway, built in the 1890s and largely dismantled in the 1960s under Ernest Marples, the then Minister of Transport, and goes underneath the impressive Bowstring Bridge.
The reconstruction of the passenger station platform of West Bridge Station is pointed out, as well as the elegant Donisthorpe factory, built on the site of the Blackfriars, and the point across the canal where Robert Stephenson constructed his celebrated Lifting Bridge.
Dates, costs and where to meet
A place on 'Waterside Leicester' costs £6.00 per person, or £5.00 if paying in advance. The guided walk begins at Vaughan College, and is running on:
I'm sorry, but there are no plans to run this event at present.
If you would like to book a place on one of these dates, please telephone Colin on (0116) 2611576 or email him at colin@crosbyheritage.co.uk.