Haunted Belgrave (A Guided Walk in Leicester)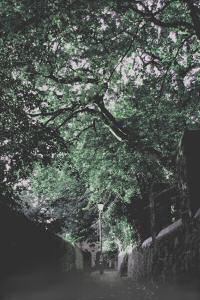 "Haunted Belgrave" is one of the celebrated Haunted Walks devised and led by the Leicester-based Blue Badge Guide Colin Crosby, of Colin Crosby Heritage Tours.
These strolls are an enjoyable way to soak up some Local History.
Most towns have their own set of ghosts, but Belgrave has achieved an international reputation as a spooky place.
This walk starts at Melton Turn, at the junction of Melton Road and Loughborough Road, in Belgrave's famous Golden Mile, celebrated for its beautiful sari shops, sweet shops and of course Indian restaurants.
The oldest ghosts in Belgrave seem to date from the Roman occupation two thousand years ago - not surprising, as Melton Road is on the line of the Fosse Way, one of Britain's best-known Roman roads, which ran from Lincoln through Leicester and the Cotswolds to Exeter.
Most of the phantom activity, however, is centred around the core of the old village of Belgrave, where the church, pub and two 18th century mansions stand together near the river.
The most famous of the Belgrave haunted houses is Belgrave Hall, which is now a museum. A few years ago closed circuit television picked up what appears to be the ghost of an old lady. Some sceptics pointed out that it might have been a leaf, or a crisp packet - but it might equally be the ghost of an old lady.
Before this happened, people living in the area were convinced that the ghost of one of the daughters of John Ellis, who lived at Belgrave Hall, still roams benignly around the area. Her grave is in the churchyard.
Belgrave has achieved the ultimate accolade of being the subject of the popular TV programme, "Most Haunted".
Colin leads several other walks dealing with ghosts, including "Haunted Leicester", "Walk in Dread", "The Shades of Night", "Goosepimples", "The Haunted City" and "Tales for Halloween", as well as two in London, "Haunted London" and "The Haunted Capital".
Colin usually invites those taking part in these walks to tell about their own ghostly experiences, and points out that ghosts do not necessarily dress in fashions from bygone centuries. They sometimes look just like the rest of us.
Dates, costs and where to meet
A place on 'Haunted Belgrave' costs £5.00 per person, or £4.00 if paying in advance. The guided walk begins at Melton Turn, and is running on:
I'm sorry, but there are no plans to run this event at present.
If you would like to book a place on one of these dates, please telephone Colin on (0116) 2611576 or email him at colin@crosbyheritage.co.uk.