Cardinal Wolsey Statue (Leicester)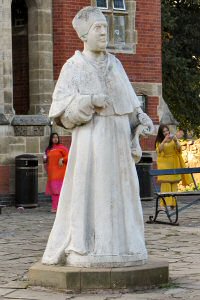 The Cardinal Wolsey statue stands in Abbey Park, Leicester, by the elegant bridge which crosses the River Soar.
The statue was donated by the Wolsey hosiery company, one of Leicester's major employers. They took their name from the Cardinal.
In the early 1990s, the statue was decapitated by vandals. A new head was commissioned, and it is said that the new one is a much better likeness.
Thomas Wolsey was born in IIpswich and became a priest at Marlborough. His meteoric rise under Henry VIII led him to become Archbishop of York, a Cardinal and the King's Lord Chancellor. In the meantime he had been Bishop of Lincoln, Bishop of Bath and Wells, Bishop of Durham, Bishop of Winchester and Abbot of St. Albans.
He failed, however, to persuade the Pope to agree to the annulment of Henry's marriage to Catherine of Aragon, necessary if he were to marry Anne Boleyn.
Wolsey was summoned to London, where he would probably have been executed.
However, he only got as far as the wealthy Leicester Abbey, where he died and was buried.
The Abbey was destroyed at the Dissolution of the Monasteries, and Wolsey's grave was subsequently lost. However, there is a memorial to him on the approximate spot.
Wolsey was one of two important men to be buried in Leicester during the Tudor period. The other wasRichard III.