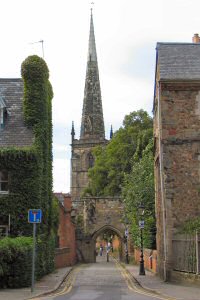 There was another Saga Holidays week in Leicester recently, and as part of the programme I gave my usual talk of welcome to the city.
The guests stayed at Beaumont Hall, one of the Halls of Residence of Leicester University, whose garden is part of the lovely Harold Martin Botanic Garden.
I gave an overview of the past and present of this fascinating city, which is nowhere near as well known as it should be.
For example, Leicester is one of the oldest towns in the country (the Jewry Wall is the largest free standing Roman building of a civil nature in Britain); it is today one of the top ten largest cities in England; Leicester Market is the largest covered market in Europe; the Thomas Cook Statue marks the birth of modern tourism, with Cook`s first trip (from Leicester to Loughborough) being organised in 1841; and the Diwali lights in Belgrave are the finest outside India.
I spoke about the five mediaeval churches (including Leicester Cathedral) in the historic Old Town; about the excellent museums (including the New Walk Museum and the iconic National Space Centre); about the lovely parks (including Abbey Park); and about the excellent shopping facilities (including the soon to be opened Highcross, which will include the already excellent centre The Shires).
And of course I managed to fit in a few words about the beautiful Leicestershire countryside, and some of the fine market towns, including Loughborough (famous for its bells); Melton Mowbray (for hand raised pork pies and Stilton cheese); Market Harborough (for corsets and the Liberty Bodice); and Market Bosworth (where Richard III lost his crown and his life in 1485).
It`s great for me on these occasions to meet people from all over the country. This time I talked to visitors from Birmingham; Leigh; Lichfield; Lincoln; Thirsk; and Welwyn Garden City. There was even a visitor from Adelaide in Australia!
You could do worse than book on a Saga Holiday in Leicester. If you do, then I look forward to meeting you.
Posted by colin on Wednesday 27th August, 2008 at 8:32am