Leicester Market (Leicester)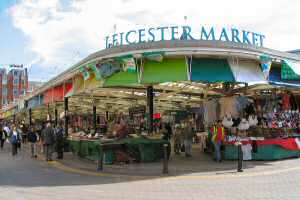 Leicester Market can be found in Leicester City Centre, in the corner behind Gallowtree Gate and Horsefair Street.
It is the largest covered market in Europe, having been originally an open square but being covered over in the late 20th century.
It was formerly used for Royal proclamations, as well as political rallies. Two famous politicians who sought election in Leicester were Ramsey McDonald (successfully) and Winston Churchill (unsuccessfully). For the rest of his life, if anybody mentioned Leicester to Churchill he would comment "beastly place".
In the Market Place is the Corn Exchange, and also the Duke of Rutland Statue.
There is also an indoor market adjoining the main market, which particularly sells meat, fish and dairy products.
Leicester's market dates back to the 13th century, and there was formerly another market in the old High Street, which is now High Cross Street.
As well as the usual products which one would expect to buy in a market, fruit and vegetables from all over the world are also available.
Where is Leicester Market?
View a map showing the location of Leicester Market.
Press the 'Back' button on your web browser to return here.