New Walk Museum (Leicester)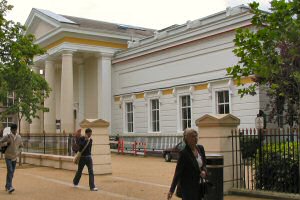 The New Walk Museum is a very popular part of the Leicester Museums Service.
It can be found on New Walk, the unique Georgian footway which runs from Welford Place in the City Centre, where Belvoir Street swings round to become Welford Road, up to Granville Road, opposite Victoria Park.
The building was originally constructed as a non-conformist school by Joseph Aloysius Hansom, who invented the Hansom Cab while living in Hinckley. Another of his buildings in Leicester is the Pork Pie Chapel, and he was also the architect of Birmingham Town Hall and Lutterworth Town Hall.
One of its best-known galleries is that containing dinosaurs. A number of such fossils have been found in Leicestershire and Rutland, including an ichthyosaurus at Barrow-upon-Soar.
The Museum also has a gallery devoted to Egyptology, with some mummies, and also contains a well-respected Art Gallery.
Where is New Walk Museum?
View a map showing the location of New Walk Museum.
Press the 'Back' button on your web browser to return here.