National Space Centre (Leicester)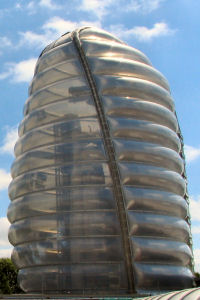 The National Space Centre can be found in Exploration Drive, off Corporation Road, which itself is off Abbey Lane in Leicester.
Abbey Lane is one of the main roads leaving the city to the North, on the way to Loughborough and Derby. It is the A6.
The Space Centre is the only one outside North America, and was opened in 2001, as one of this country's major Millennium projects.
It is an extraordinary-looking modern building, and seems to be admired by most. It is made of a sort of plastic.
Highly visible through the transparent sides are two rockets, one American and one British. If it is ever necessary to take out these rockets and replace them with different exhibits it will be possible to, in effect, unzip the wall to do so. This will, however, be a very expensive operation.
The Space Centre has exhibits explaining all aspects of space, the stars, the planets, comets etc, as well as the history of our knowledge of the subject.
Nearby is the very popular Abbey Pumping Station, and the lovely River Soar flows beside the centre.
Where is National Space Centre?
View a map showing the location of National Space Centre.
Press the 'Back' button on your web browser to return here.