Jewry Wall (Leicester)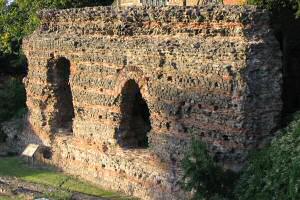 The Jewry Wall is a one of the most important Roman survivals in Britain.
It is situated in St. Nicholas Circle, just off Vaughan Way, part of Leicester's inner ring road, beside St. Nicholas Church and opposite the Holiday Inn.
The Jewry Wall is the largest piece of Roman masonry of a civil, as opposed to military, nature in the country. Others of similar size are the Newport Arch at Lincoln and the famous Balkerne Gate at Colchester. However, important though these are, they are not as big as the Jewry Wall.
It is sometimes supposed to be part of the Roman town wall of Leicester. There was a town wall, but this is not it. It is actually part of the wall of the baths complex, which had washing and social functions.
Unlike many Roman remains, the Jewry Wall was never lost. Because of its size, it was not buried, but as been known to Leicester residents throughout the centuries, although they have not always understood its function.
The name does not, as might be supposed, refer to the Jewish people. It alludes to the Jurat, an early form of council consisting of twelve men (the word "jury" comes from the same source), who met at a hall nearby.
The exposed foundations beside the wall are of the baths. These were discovered in the 1930s, when new swimming baths were planned to be built there! The great archaeologist Kathleen Kenyon took charge of the excavations.
The Jewry Wall Museum is in a building beside the foundations, cleverly using huge windows to include the Roman remains as part of the displays. The museum is of Leicestershire social history from the earliest times to 1485, when the Battle of Bosworth, fought just a few miles away, changed the course of English history, as Henry Tudor defeated Richard III.
Where is Jewry Wall?
View a map showing the location of Jewry Wall.
Press the 'Back' button on your web browser to return here.