Birmingham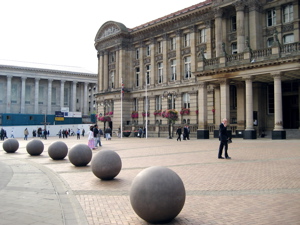 Birmingham is the second city of England. It grew from a town with iron and metal trades into a major industrial city as a result of the Industrial Revolution in the 18th century.
Victoria Square has a splendid collection of Victorian buildings, complemented by modern sculpture. On one side is the Council House and on another is the Town Hall, designed as a Greek Temple by Joseph Aloysius Hansom. There is also a Queen Victoria Statue, the Floozie in the Jacuzzi and Iron Man by Antony Gormley.
Birmingham Cathedral (Anglican) is a baroque building by Thoms Archer, with fantastic windows by Edward Burne-Jones, while Birmingham Cathedral (Catholic) is the work of Augustus Pugin.
The Bullring is a magnificent shopping centre close to New Street Station.
Among those born in Birmingham are the cricketer Dennis Amiss; actress Eileen Atkins; film producer Michael Balcon;engineer Matthew Boulton; rtist Edward Burne-Jones; chocolate manufacturer George Cadbury; Prime Minister Neville Chamberlain; ice skater John Curry; finger print deviser Francis Galton; TV producer Tony Garnett; comedian Tony Hancock; composer Albert Ketelbey; actress Felicty Kendal; travel writer H. V. Morton; rock singer Ozzy Osbourne; novelist Sax Rohmer; theatre critic Kenneth Tynan; footballer Darius Vassell; actress Julie Walters; rock singer Steve Winwood; and rock singer Roy Wood.
Blue Badge Guide Colin Crosby is available to lead Guided Walks around Birmingham for groups.
Places in Birmingham
Aston Hall, Back to Backs, Barber Institute of Fine Arts, Birmingham Botanical Gardens, Birmingham Cathedral (Anglican), Birmingham Cathedral (Catholic), Birmingham Eco Park, Birmingham Moor Street Station, Birmingham Museum and Art Gallery, Birmingham New Street Station, Birmingham Snow Hill Station, Blakesley Hall, Bull Ring, Bull Statue, Canon Hill Park, Council House, Floozie in the Jacuzzi Statue, Iron Man Statue, Kings Heath Park, National Sea Life Centre, Queen Victoria Statue, Soho House, St. Martin`s Church, Town Hall