Thomas Cook Statue (Leicester)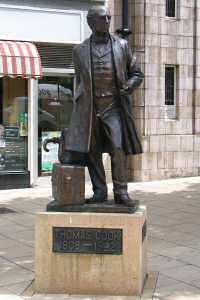 The Thomas Cook statue in Leicester is a fitting tribute to one of the city's best-known adopted sons.
It can be found outside Leicester Station, in London Road, the main road leading Southwards from the City Centre towards Oadby and Market Harborough.
Thomas Cook, the famous travel agent, organised his first ever trip in 1841, by train from Leicester to Loughborough to a Temperance meeting. He was living at Market Harborough at the time, and was walking to work in Leicester one morning when he hit on the idea of hiring the newfangled railway network for social purposes.
The statue is by James Butler, who is also responsible for two other statues in Leicester. One of these is The Seamstress Statue, outside the City Rooms. The other is Richard III, in Castle Gardens.
The Thomas Cook statue was unveiled in 1991, to celebrate the 150th anniversary of the historic Leicester to Loughborough excursion. The site is appropriate, as it was from Campbell Street, where the present station now stands, that the journey started.
Thomas Cook is also remembered by the Thomas Cook Building in Gallowtree Gate, as well as a number of plaques around the City Centre and at Loughborough, Market Harborough and Kibworth. He is buried at Welford Road Cemetery.