Leicester Cathedral (Leicester)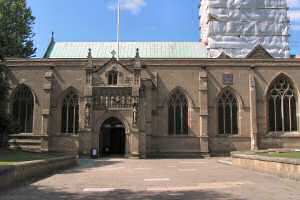 Leicester Cathedral is situated in Peacock Lane, in Leicester City Centre, close to the Guildhall.
With its tall spire, the cathedral is an important part, not only of Leicester's life and work, but also of the city's skyline.
One of five mediaeval churches in the Old Town of Leicester, it was built on a pre-Christian religious site and has been a cathedral since the 1920s.
Previous to this, it was simply St. Martin's Church. It was felt to be desirable for the cathedral to be not only in the diocese's biggest city, but also in the centre of the diocese. In addition to this, St. Martin's had for centuries been the civic church, where councillors had taken part in official services.
Inside the cathedral, there is a memorial to Richard III, the tragic and much-maligned king who was killed at the Battle of Bosworth a few miles away and buried at the Grey Friars in Leicester.
There is also a memorial to Abigail Herrick, a member of the famous Herrick family, one of whose members was Robert Herrick, the clergyman poet who wrote "Cherry Ripe". Abigail lived at Wigston Magna. She visited Dublin, where she met and married a cleric named Dr Swift. Their son, Jonathan, is internationally remembered for his satirical work "Gulliver's Travels".
Leicester Cathedral has services, of course, and is otherwise open at all reasonable times. There is a Visitor Centre, with cafe and toilets, at the Guildhall, operated for the joint benefit of both buildings.
Where is Leicester Cathedral?
View a map showing the location of Leicester Cathedral.
Press the 'Back' button on your web browser to return here.