Abbey Park (Leicester)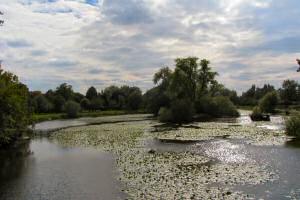 Abbey Park in Leicester is a very beautiful one. In fact, Blue Badge Guide Colin Crosby regards it as one of the two nicest parks in English towns. The other is Priory Park at Prittlewell, a district of Southend in Essex.
The park was created in the late 19th century out of what was a swampy area by the River Soar – people said the council were insane for even contemplating a park in such a position. The Prince and Princess of Wales (later Edward VII and Queen Alexandra) opened Abbey Park in 1882.
The adjoining land across the river was added in the early part of the 20th century, from land given by the Earl of Dysart, and opened to the public as Abbey Grounds in 1932.
The work to add Abbey Grounds to Abbey Park involved the building of a lovely bridge over the Soar.
The name "Abbey Park" refers to Leicester Abbey, which once stood on the site. It was a very wealthy foundation. The site is sounded by walls, some of which, beside the roads, are in an excellent state of repairs. The stone wall, Abbot Clowne's Wall, dates back to the 13th century. Abbot Penny's Wall, however, is from the 15th century, but its greater interest stems from it being the earliest use of brick for the perimeter wall of a large property.
The Cardinal Wolsey Statue stands beside the bridge. Wolsey died at Leicester Abbey and was buried there.
Leicester Abbey was demolished at the Dissolution of the Monasteries. On the site Cavendish House was built. This, however, is now in ruins, having been set fire to by Charles I's soldiers fleeing after the Battle of Naseby.
Today, Abbey Park has lovely walks, sports facilities and a children's animal corner.