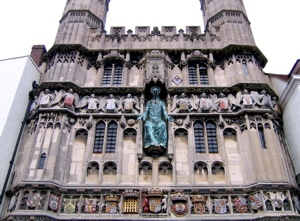 If you are one of the millions who love old churches and cathedrals ....
If your interest is because of your religious faith, or if it is for the brilliant architecture and historical associations ....
Then you will be interested to learn about my wide range of Coach Trips, most of which have an element of Christian heritage.
All the excursions run from St. Margarets Bus Station in Leicester, but of course if you would like to have your own trip for your club or group then I will be happy to start wherever you want me to.
Here is an idea of some of the trips for 2008, and why they are important from a religious point of view.
Saturday 26 January Colchester The largest religious building ever constructed in Britain - the Temple of the Roman Emperor Claudius, destroyed during Boudicca's rebellion, but its foundations are still there, underneath Colchester Castle. Impressive ruins of St. Botolphs Priory, the first Augustinian foundation in England. Magnificent St. Johns Abbey Gatehouse. Foundations of earliest known Christian church in Britain.
Saturday 29 March York Magnificent cathedral known as York Minster, seat of the Archbishop of York, with outstanding windows. Ruins of St. Marys Abbey. Shrine of the martyred Margaret Clitherow. Many mediaeval churches.
Wednesday 9 April Kent Tour Stops at Rochester - Rochester Cathedral was the second cathedral to be built in England; Sandwich - three surviving mediaeval churches; Canterbury - much loved Canterbury Cathedral, seat of the Archishop of Canterbury, where England's first cathedral was built, and scene of the outrageous murder of Thomas a Becket. Ruins of St. Augustines Abbey. St. Martins Church, probably the oldest in England, where the Queen of Kent was worshipping before the arrival of Augustine in 597. Many mediaeval churches.
Wednesday 30 April Southwell and Newark Southwell is famous for Southwell Minster, the Anglican cathedral for Nottinghamshire; Newark has outstanding St. Marys Church.
Saturday 24 May Southend Rev. George Wood, universally known as "Happy Harry", preached the gospel on Eastern Esplanade for many years.
Sunday 29 June Shakespeare Country Tour At Stratford-upon-Avon, the beautiful Holy Trinity Church is the burial place of William Shakespeare. The Guild Chapel has a good collection of wall paintings.
Wednesday 9 July John Clares England Tour Stops at Crowland - impressive remains of Crowland Abbey, on site of hermitage of St. Guthlac; Helpston - birthplace of John Clare, who is buried in the churchyard; Stamford - several mediaeval churches. Remains of St. Leonards Priory.
Saturday 26 July Cotswolds Tour Stops at Burford - St. Johns Church has a memorial to those Levellers who were executed in the churchyard. William Morris founded the Society for the Protection of Ancient Buildings after a row with the incumbent; Cirencester - the magnificent St. John the Baptist Church has a three storey porch, and is on site of church where the Danish King Guthrum was baptised. Abbey Gate survives.
Friday 5 September Ludlow St. Laurences Church has a splendid landmark tower and a rare hexagonal porch. The ashes of A. E. Houseman rest in the churchyard. In the grounds of Ludlow Castle are the ruins of a circular chapel.
Saturday 27 September Salisbury The superb Salisbury Cathedral is probably the best loved building in England. Tallest spire in England and largest cathedral close in England. St. Thomas Church has a superb doom painting.
Wednesday 5 November Thetford Forest Tour Stops at Thetford - impressive ruins of Thetford Priory; Bury St. Edmunds - Bury St. Edmunds Cathedral has a "mediaeval" tower, completed and opened in 2005. Extensive remains of Abbey, final resting place of St. Edmund, martyred King of East Anglia and former patron saint of England.
Saturday 29 November Chester Impressive Chester Cathedral on site of abbey founded by St. Werburgh. Partly ruined St. Johns Church formerly used as a cathedral.
I will be very pleased to have you on any of these trips. Give me a ring on 0116 - 2611576 to book. I am sure you will find it a rewarding experience.
Posted by colin on Wednesday 5th December, 2007 at 10:34am