St. John the Baptist Church (Cirencester)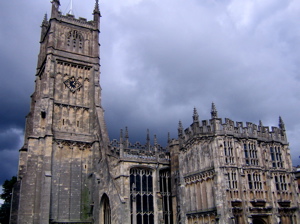 St. John the Baptist Church is the parish church of the splendid old town of Cirencester.
It stands in a central position beside what is effectively the Market Place, actually a widening of the main street, and is one of the finest wool churches of the Cotswolds.
The church dates mainly from the 15th century, and has a highly impressive tower, easing to 134 feet. There are also a number of chapels, dating from the 16th century, including St. Catherine's Chapel with its intricate fan vaulting. The building is 180 feet long, and is one of the biggest churches in England.
The church porch is of three storeys, and was used for many years by the townspeople as their Town Hall. It was built by the local Guilds in about 1500.
The style of the building is mainly Perpendicular, but there are some Norman details. Simon Jenkins, in his famous book "England's Thousand Best Churches" dubbed it "the cathedral of woolgothic".
St. John's has a peal of twelve bells, the oldest in the country.
In the earlier Anglo-Saxon church on the same site, the Danish King Guthrum kept his word to Alfred the Great, and was baptised into the Christian faith.