Canterbury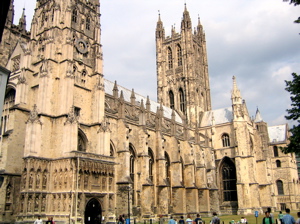 Canterbury is an ancient cathedral city in Kent, and is one of the most enquired about destinations in England.
It is one of the oldest places in the counry, having been capital of the Celtic Cantii tribe, whose name persists both in Canterbury and Kent.
Canterbury was an important Roman town, linked by Watling Street to Rochester, London and the Midlands, and there were a number of other Roman roads leading further into Kent.
St. Augustine, having been sent by Pope Gregory the Great to evangelise the English, had the good fortune to be looked on kindly by Ethelbert of Kent, whose wife Bertha was already a Christian.
Ethelbert allowed Augustine to use a deserted Roman church, and it was these beginnings that led to the creation of the magnificent Canterbury Cathedral.
Canterbury is now the focal point of the Church of England, and the Archbishop of Canterbury is the top professional in the church - the titular head of the church is the Queen.
Canterbury acquired considerable pilgrimage status after the outrageous murder of the Archbishop Thomas a Becket on the steps of his own cathedral.
Among the many other features worth seeing in Canterbury are St. Augustine's Abbey, St. Martin's Church, the City Walls and Canterbury Castle.
People born in Canterbury include R. H. Barham, author of "The Ingoldsby Legends"; Christopher Marlowe, the Elizabethan dramatist; and Mary Tourtel, creator of Rupert Bear.
Blue Badge Guide Colin Crosby is available to lead Guided Walks around Canterbury for groups.