St. Augustines Abbey (Canterbury)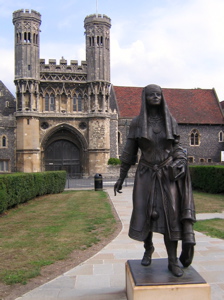 St. Augustines Abbey is a very historic site in Canterbury.
It consists of the remains of one of England's oldest religious sites.
The original Benedictine abbey was founded by St. Augustine shortly after his arrival in 597, just outside the City Walls.. He had been given the site, along with the old church on which Canterbury Cathedral was later built, by King Ethelbert of Kent.
Being rebuilt on a number of occasions, the abbey became one of the richest in the land. It reached the end of its life in 1538, at the Dissolution of the Monsteries.
Today, the extensive remains are in the care of English Heritage.
In 1989, St. Augustines Abbey, together with Canterbury Cathedral and St. Martins Church, collectively received the designation World Heritage Site.