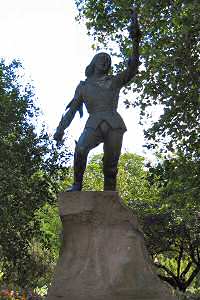 Richard III was King of England for a short period towards the end of the 15th century. He was the last of the Plantagenet kings.
His reputation as an evil, scheming monster with alleged severe disabilities adding to his legend is almost entirely due to William Shakespeare`s play, backed up by writings by Thomas More and Polydore Vergil. All were writing in the Tudor period and wishing to show the present monarchy in the best possible light. There is little justification for any of it.
Laurence Olivier added to all this in the 20th century with his brilliant and much parodied portrayal in his fim version of the Shakespeare play.
Richard was born at Fotheringhay Castle in 1452, the son of Richard Duke of York, claimant to the crown in the reign of Henry VI, and Cecilia Neville. A delicate child, he was moved from place to place according to the fortunes of his father, who was killed at Wakefield in 1460. According to Shakespeare, never one to allow truth to get in the way of a good story, Richard killed the Earl of Somerset at the first Battle of St. Albans in 1455. He would have been two years old at the time.
Shortly afterwards, his brother became king as Edward IV. Richard was still only nine years old at this point, but within five months was created Duke of Gloucester.
He remained loyal to Edward when his other brother George, Duke of Clarence, rebelled in 1469, and went into exile with Edward when Henry VI briefly replaced him on the throne between 1470 and 1471.
After the fall from grace and subsequent death of Richard Neville, Earl of Warwick in 1471, Richard began to be more powerful, taking over many of Warwick`s titles and respponsibilities.
In 1472, at Westminster Abbey, Richard married Anne Neville, daughter of the late Earl of Warwick and herself descended from Edward III and the widow of the Prince of Wales, Henry`s son Edward.
Richard gradually became acknowledged as the king`s chief lieutenant in the North of England, becoming known as "Lord of the North". He based himself at this time at Middleham Castle, which earned itself the title "Windsor of the North".
Richard accompanied Edward on his expedition to France in 1475, and remained loyal throughout further opposition from his brother the Duke of Clarence, which eventually led to the latter`s execution.
A number of campaigns which Richard led against James III of Scotland culminated in his regaining Berwick-on-Tweed and even advancing into Edinburgh.
Richard was regarded, especially in the North, as a fair and just administrator, a strong general and a popular man with all classes.
When Edward IV died unexpectedly in 1483, his will named Richard as Protector during the infancy of his young son Edward V.
Richard soon realised not only that England would be best served by having a strong adult king, but also that the young king`s mother, Elizabeth Woodville from Groby, would assert her authority, along with her family, unless he himself took pre-emptive action.
He hastened down from York to intercept Earl Rivers and the Woodvilles, who were escorting Edward V from Ludlow Castle, meeting them and taking over as escort at Stony Stratford, while Rivers was arrested at Northampton. Taking Edward to London, he placed him and his brother Richard in the Tower of London. It should of course be realised that the Tower was used as a residence and not necessarily, as is usually assumed, a prison.
Anthony Woodville, Earl Rivers, the young king`s uncle, objected and was executed, as was Lord Hastings, formerly a staunch supporter of Richard.
Edward V was declared illegitimate, because of the alleged marriage contract that his father had entered into before his actual marriage to Elizabeth Woodville. After being offered the crown at Crosby House in Bishopsgate, Richard assumed control of England as Richard III, and was crowned at Westminster Abbey. It was still 1483.
Edward and his brother Richard have gone down in English traditions as the "Princes in the Tower". Most people believe the story that they were put to death on the orders of their scheming, wicked uncle, which frankly seems most unlikely given that uncle`s staunch loyalty to their father. His successor, Henry Tudor, had very good reason to wish them dead, but there is no evidence that anybody murdered them. The probability is that they simply eventually died.
Henry Stafford, Duke of Buckingham rebelled but was captured. Richard signed his death warrant either at Grantham or at Salisbury, and he was executed in Salisbury Market Place.
During his short life, Richard showed himself to be a competent ruler as well as an excellent general. He is known to have been a fine swordsman, a fine horseman and a fine dancer, although his alleged disabilities would have precluded any of this.
He brought in the bail system, as well as a number of measures to improve the lot of common people. He also set up the College of Heralds. He was a very pious man and devoted to his wife.
Richard was distraught when his young and only legitimate son Edward, Prince of Wales, died in 1484 aged eight. His wife Anne died of consumption in 1485, although true to form Tudor writers claimed that he had poisoned her in order to marry his niece. She was buried at Westminster Abbey.
On his son`s death, Richard named his nephew John de la Pole, Earl of Lincoln, as his heir presumptive.
Henry Tudor, the Earl of Richmond, invaded in 1485, landing at Milford Haven. Richard raised his standard at Nottingham and marched to Leicester, where he spent the night at the White Boar, then led his army out along the Roman road towards Mancetter.
Henry meanwhile rested at Shrewsbury and later at Atherstone.
The two protagonists met at the Battle of Bosworth, near Market Bosworth. Richard was betrayed by the Stanleys, his supposed allies, who waited until they saw how the battle was going before changing sides. Richard charged into the heart of the fighting, intent on personally killing his rival, but was himself killed, the last King of England to die in battle. He was still only 32.
His body was carried back to Leicester for burial. Henry knew that there would likely be a strong rumour that he was not really dead, but was licking his wounds before raising an army to regain his crown. This could be stopped by displaying his body in the town where he had been seen alive only days before.
Richard`s body lay in state for three days at the Newarke Church before being buried at the Greyfriars. A later legend claims that his remains were exhumed and thrown into the River Soar. However, this unlikely "fact" was not mentioned by anybody for a hundred years after it is alleged to have happened. His remains are almost certainly still under the site of the Greyfriars, never to be found.
There is now a memorial to him yards away at Leicester Cathedral.
Richard was not a perfect man, and no doubt did things which today we would regard as reprehensible. But he was a mediaeval king, and all mediaeval kings acted in that way.
It is quite obvious why chroniclers in the Tudor period depicted him as evil. What is not quite so clear is why they should show him as physically deformed. The answer is that at that time it was generally believed that a physical deformity was undeniable evidence of a moral deficiency, as it was God`s punishment for being a wicked person.
The Richard III Society is dedicated to restoring this much maligned young king`s name.
Moreover, the City of York, where the corporation put out a statement of sorrow as soon as news of his death reached them, still mourns him.
Richard and Anne had one child. Edward, Prince of Wales was born at Middleham Castle in 1476. He died at Middleham in 1484 and was buried at Sherriff Hutton Church.
He also had a number of illegitimate children, by unknown mothers.
John of Pontefract, Captain of Calais, was born in 1470 and murdered in 1499.
Richard was born in 1469. He worked in obscurity as a tutor for a family in Kent and died in 1550, being buried at Eastwell Church.
Katherine married William Herbert, Earl of Huntingdon.
Nothing further is known about Stephen Hawes and three unnamed children.
Posted by colin on Thursday 19th November, 2009 at 8:47am