River Soar (Leicester)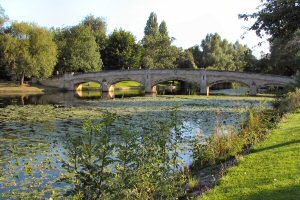 The Soar is the main river of Leicestershire, flowing Northward through the City of Leicester and on to the River Trent.
In Leicester it runs through or beside several green areas, including Aylestone Meadows, Castle Gardens, the beautiful Abbey Park and Belgrave Gardens.
There are several splendid bridges over the river, which splits in two when approaching the City Centre, creating Bede Island. The lesser-known, and unnavigable, strand is known as the Old River Soar.
A century ago, flood prevention measures created the Mile Straight, and it is along this stretch that rowing practice can often be seen.
West Bridge has been the site of a bridge since the 12th century, and in Roman times the Fosse Way crossed at this point. The bridge formerly had a chapel, demolished in the Victorian period.
The iconic National Space Centre, the only one outside North America, was opened beside the river in 2001.
After the Soar leaves Leicester, it flows through the popular Watermead Park and via Birstall, Mountsorrel, Quorn and Barrow-upon-Soar before skirting Loughborough.
Guided Walks featuring the Soar include "Waterside Glenhills", "Waterside Aylestone", "Waterside Leicester", "Waterside Abbey Park", "Waterside Belgrave", "Waterside Birstall", "Waterside Thurmaston", "Waterside Mountsorrel", "Waterside Quorn and Barrow-upon-Soar", "Waterside Loughborough and Barrow-upon-Soar", "Old Aylestone", "Old Belgrave", "Walking the Walls" and "Bede Island"."