Kent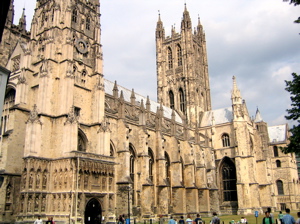 There are not many rivals to Kent for the title of England's most historic county.
The name Kent is in fact the country's earliest known place name, first recorded in 55BC.
Kent is the most South Easterly county of England, and the closest to Europe, pointing towards France, which can be clearly seen from the coast at such places as Deal, Dover and Ramsgate.
So close is the Continent that Kent's history, and that of England, has been hugely influenced from across the Channel. For example, Julius Caesar's reconnaisance trips were to Deal, and the Roman invasion proper was at Richborough, while the traditional landing of the English Hengist and Horsa was at Ebbsfleet in 449.
St. Augustine, on his mission to evangelise the English for Christianity, landed on the same spot in 597.
Canterbury is a hugely historic city, dating from Roman times, and Canterbury Cathedral is the seat of the Archbishop of Canterbury, the top man in the Church of England.
Rochester, another Roman town, is where the second of England's cathedrals was established, and there are many connections with Charles Dickens.
Maidstone is the bustling county town.
Broadstairs, a small seaside town on the Isle of Thanet, has a Tudor pier and Dickens connections.
Chatham has a Dockyard founded by Henry VIII, which is now a major tourist attraction.
Deal is the seaside town where Caesar first landed, and long time home of the Royal Marines.
Dover, one of the Cinque Ports, has a famous Norman castle with a Roman lighhouse in its grounds, as well as the world renowned White Cliffs of Dover.
Faversham is a historic town which is home to England's oldest brewery.
Folkestone, a popular seaside resort, is now the gateway to the Continent via the Channel Tunnel.
Gravesend is the burial place of the native North American Pocahontas.
Hythe is another of the Cinque Ports, and terminus of the Romney Hythe and Dymchurch Railway.
Margate is a seaside resort on the Isle of Thanet, where the bathing machine was invented.
Ramsgate is an elegant Regency town, seaside resort and yachting centre on the Isle of Thanet.
Sandwich is another of the Cinque Ports, and has a vast number of listed buildings.
Tunbridge Wells is one of England's most elegant spa towns, famous for its Pantiles.
Whitstable, another seaside resort, was for centuries famous for the quality of its oysters.
As well as the world famous one at Dover, there are many other castles at such places as Canterbury, Rochester, Tonbridge and the fairy tale Leeds Castle.
Kent has long been known as the garden of England, with an enormous number of fruit trees and the ubiquitous oast houses. It has a long coastline, and the lonely Romney Marsh in the South, where the county merges with Sussex.
The River Medway flows Northwards through Kent, eventually joining the River Thames, which reaches the sea between Kent and Essex.
Events in Kent