Windsor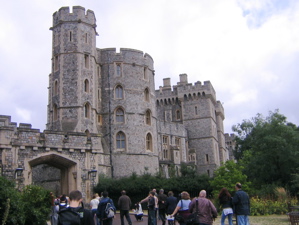 Windsor is a handsome market town in Berkshire, on the River Thames, and is often known as Royal Windsor. The town is dominated by its world-famous edifice, Windsor Castle.
Windsor Castle is the largest castle in England, and is still one of the residences of Her Majesty the Queen. The castle was started by William the Conqueror shortly after the Norman Conquest in the 11th century, but most of today's buildings date back to the 12th century, heavily altered in Victorian times.
St. George's Chapel was built in the late 15th century, and has wooden stalls and banners for the Knights of the Garter, with a memorial chapel to Prince Albert attached. People buried here include Henry VIII, Charles I and Edward VII.
The best known feature of the castle is the Round Tower, which was built in the 12th century on an artificial mound. Its height was raised by George IV.
There was a devastating fire in St. George's Hall in 1992, but it has been superbly rebuilt since.
The town itself has many picturesque streets and lanes, and a splendid Guildhall designed by Christopher Wren, who rebuilt much of London, in 1687. Nell Gwynne's house was built about 1670.
There is a very fine railway station dating from 1850, with a Royal waiting room.
Edward III and Henry VI were born at Windsor, and so were Ranulph Fiennes and Humphrey Lyttleton. William Shakespeare wrote a famous play entitled "The Merry Wives of Windsor".
Just outside Windsor, on the other side of the Thames, is the famous Eton College, founded by Henry VI.
Blue Badge Guide Colin Crosby is available to lead Guided Walks around Windsor for groups.