Westminster Abbey (London)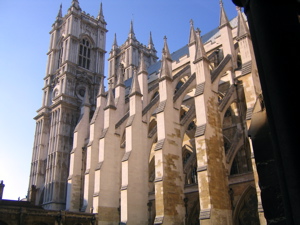 Westminster Abbey, in the historic Westminster area of London, is one of the most important churches in England.
There was a religious foundation here, founded by King Sebert of Essex on what was known as Thorney Island, in the 7th century, but it was Edward the Confessor who built new Abbey, completed just before his death in 1066.
There are still remains visible of this Norman-style church, but most of the present building is mediaeval, the work of Henry Yevele, with additions by the great Christopher Wren and Nicholas Hawksmoor.
At the Dissolution of the Monastreries in Henry VIII's reign, Westminter Abbey was saved from destruction by briefly attaining the status of cathedral.
Westminster Abbey is traditionally used for the coronations of English, and subseuently British, monarchs. Almost every King and Queen from William the Conqueror onwards has been crowned here.
Inside the entrance is a memorial to Sir Winston Churchill, and the Tomb of the Unknown Warrior. Nearby is a rare portrait of Richard II, painted in 1398.
The shrine of Edward the Confessor is situated behind the main altar.
Henry VII's chapel contains the Coronation Throne, dating from about 1300, and underneath it is the Stone of Scone, the coronation stone of the Kings of Scotland, which was captured by Edward I in 1297. According to legend, it is the pillow used by Jacob when he had his dream at Bethel. Scottish nationalists stole the stone in 1950, but it was recovered the following year.
Westminster Abbey is a hugely important Royal burial place. Among the monarchs and consorts buried here are Anne; Anne of Bohemia; Anne of Cleves; Charles II; Edward I; Edward III; Edward VI; Edward the Confessor; Eleanor of Castile; Elizabeth I; Elizabeth of York; George II; Henry III; Henry V; Henry VII; James I; Margaret Beaufort; Mary I; Mary II; Mary Queen of Scots; Philippa of Hainault; Richard II; Sebert; and William III.
Poets' Corner contains monuments to such notables as W. H. Auden; Jane Austen; William Blake; Anne Bronte; Charlotte Bronte; Emily Bronte; Robert Browning; Lord Byron; Geoffrey Chaucer; Noel Coward; Charles Dickens; John Dryden; T. S. Eliot; David Garrick; Oliver Goldsmith; George Frederick Handel; Thomas Hardy; Henry James; Samuel Johnson; Ben Jonson; Rudyard Kipling; Henry Wadsworth Longfellow; John Milton; Laurence Olivier; William Shakespeare; Percy Bysshe Shelley; Richard Brinsley Sheridan; Edmund Spenser; Alfred Lord Tennyson; William Makepeace Thackeray; Dylan Thomas; and William Wordsworth.
There is also a Musicians' Aisle, with the graves and memorials of, among others, Benjmin Britten; Edward Elgar; Orlando Gibbons; Henry Purcell; and Ralph Vaughan Williams.
The Statesmen's aisle has statues of politicians such as William Ewart Gladstone; Robert Peel; and William Pitt the Elder.
The Norman Undercroft contains the Abbey Museum, with many exhibits relating to the Abbey's history.
Westminster Abbey is situated close to the Houses of Parliament, and ws occasionally used itself for Parliament in the Middle Ages. .